Gear Question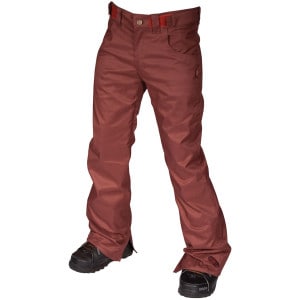 $199.95
5 Reviews
See all product details
question on the fit so i wont have to return them. im a pant...
By danpo59
Ranked #622 - Men's Pants November 8, 2012
question on the fit so i wont have to return them. im a pant size 30-31 and my inseam is about 31-32 and my legs are on the skinnier side. how tight are these pants? on a scale from 1-10 1 being skin tight and 10 being more of a baggy straight leg. also, do you think i should get a small or medium? would small be too short because i size chart for airblaster and it said small was to about 5'6"
View Details: Airblaster Sissy Pant - Men's
Helpful Votes: 0 Yes
By JF
Ranked #49 - Men's Pants December 9, 2012
I regularly wear 31x30 slim dillon jeans from pacsun and the medium was big. I wore medium with basketball shorts under without any adjustments to the side velcros & it was still loose fitting. I'd rather not touch the velcro as I always felt that design elements on these pants get torn up & stitching breaks apart. So going off the sizing chart, it's pretty accurate. I'd get a small.
Helpful Votes: 0 Yes
By Shredwise
November 9, 2012
Whatup Danpo59, these pants are mid-slim. They're not crazy skinny though. I'd say they're a 3-4 on your baggy scale. Yeah looking at the size chart, there is a big jump from small to medium. You didn't list your height but I would prob put you in size mediums. You don't want your pants to be too small in the waist, especially when you're layering up,moving a lot... it's better to have a little too much room than too little room. Also, when you have all your shred gear on (hat, gloves, boots, jacket) snowpants tend to LOOK a lot smaller (especially inseam) than when you're wearing street clothes. So if you want a proportionally correct look, go medium.
Helpful Votes: 0 Yes
By Ryan Debenham
November 8, 2012
Hey danpo59, I am a 31-32 in the waist and inseam. I ordered a large and I feel like they are just a bit big. I think I am going to swap out for a medium. I thought these would be a bit tighter, but they seem kinda baggy to me :( Maybe the smaller size will help.
Helpful Votes: 0 Yes