Gear Review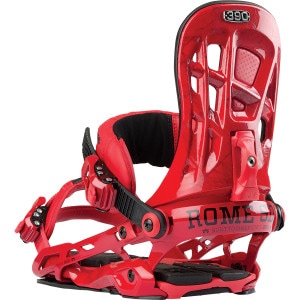 $229.95
62 Reviews
See all product details
2 Seasons, over 75 days, and minimal issues
By Zee-YYC
Ranked #260 - Snowboard Bindings December 12, 2008
How many bindings can give you performance and confidence after 2 seasons?

These are moderately flexible, giving good performance in the park, paired with a quality freestyle board. Once dialed in, they are very responsive, and comfortable. I like the conformist toe strap, that fits most boots very well. I would definitely buy these again.

I have 1 minor complaint that really don't take away from the overall performance of the binding, and which I think Rome has fixed in the later models. The fabric that covers the ratchet strap when ratcheting in is more of an annoyance, I just slide the back foot strap outside the fabric, otherwise it kept getting caught in the fabric. Really, this is a very minor issue and should in no way stop you from buying these.

When deciding between these and the Targa bindings, consider where most of your riding takes place. if you are in the park, and ride a freestyle board, I would say these are better than the Targa for you. If you are freeriding chutes and charging down steep lines, the Targa may be better.

I ride both, and you can't go wrong with either one.

Rome is also one of the best rider oriented companies out there and they look after their customers.
View Details: Rome 390 Snowboard Binding
Helpful Votes: 0 Yes