Gear Review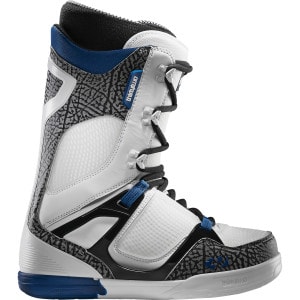 $269.95
22 Reviews
See all product details
my pain is gone! these boots were made just for my foot!
By fernheap
Ranked #1334 - Boots January 20, 2009
After trying on numerous boots, including the DC Judge (see my review), i found "MY perfect boot" in the TM two! Thank you snowboard gods! These boots are SUPER comfy on my wide size 13 foot. No breaking in period for these boots. From run #1 today it was as if I had been riding these boots for months, that's how good they fit. I use to get mean outer, middle side pain in my back foot (left) after about three hours on the mountain with my old 07-08 Burton Tributes. A thing of the past! The inner lining kills the Tribute's. So much padding and amazing heel lock. No need to heat-mold them because it feels like they already were for me right out of the box! Unbelievable! I only trust traditional lacing (as do most pros) so this is a plus feature. A bonus of this boot that I did not expect is that the outer boot is noticeably smaller than my Burtons, eliminating toe hang almost completely on my 26.3 width stance Ride Decade 162w. (not that toe DRAG ever occurred with my Burtons but it's just looks better to not have so much toe over the board.) these boots don't have that annoying "leather squeak" like my Burtons yet they are very stiff and SUPER responsive. Stiffness is important to me because I am heavy (6'2" 220 lbs.) and the extra stiffness helps prevent "flop" and keeps me in control when I'm bombing down steep groomers, yet the superior comfort and response helps me progress in the park. I love these boots and I am so happy I have gave ThirtyTwo boots a chance. Don't go cheap on your boots! You WILL regret it later as I did. Give ThirtyTwo a look and try some on!
View Details: ThirtyTwo TM-Two Snowboard Boot - Men's
Helpful Votes: 2 Yes