Gear Review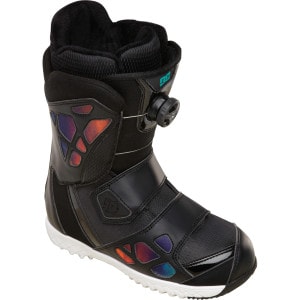 $250.00
9 Reviews
See all product details
Love the boots, run a little small.....
By vampdesign2207504
Ranked #1703 - Boots February 11, 2009
I wear a size 8.5-9 shoe and bought these boots in a 10. They were too big so I ordered a 9.5 which are great. My old boots (brand to be unnamed) were a 10 and would always put my feet to sleep and give me cramps. These boots are great because the boa is amazing to tighten and the two zones. My feet always feel tight, I probably could have gone with the 9 in hopes they would pack out, but I opted for no toe squeezing, but I do feel the pumps do not work as well as I had hoped. Still an awesome boot, I wouldnt go with anything else.
View Details: DC Mora Boa Snowboard Boot - Women's
Helpful Votes: 0 Yes