Gear Review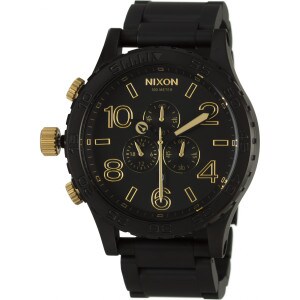 $424.95 - $549.95
12 Reviews
See all product details
This watch is bangin!
By Jake Hobbs - Nixon/Electric Rep
Ranked #10 - Men's Accessories November 16, 2009
The 5130 is the Porsche 911 of the Nixon line. It may not be the most expensive, but its fast as hell and people are going to do a double take on you. Back in the day I used to have a watch for everyday of the week. But the 5130 Chrono has been on my wrist for the past 542 days straight. Its ill, its heavy, and it goes with everything. Every outfit, and every situation, watch just screams F@$k off. Even if you arent using this thing to its full potential, it works great as a simple "Keeper of the Time". I would recommend this watch to anyone looking for something a tad bit larger and a timeless feel. Always my go to, no matter what day of the week.

And to answer the below question about this being a "Genuine 5130", there is no such thing as a Black Market Nixon. If it says Nixon, its as real deal as it gets.
View Details: Nixon 51-30 Chrono Watch - Men's
Helpful Votes: 2 Yes