Gear Review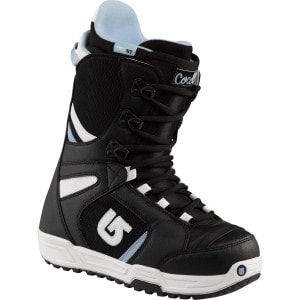 $139.95
5 Reviews
See all product details
Worth it!
By ss_rockstherail49
Ranked #853 - Boots December 20, 2009
I got these boots as a replacement for my old LTD's about a few days ago. I have really long narrow feet with thin ankles. As soon as i tried these boots on they felt great! i had a snug fit, without the numbness! I just tried them out on the slopes today and i personally like the flex on them, and how i didnt feel like i was wearing anvils on my feet while riding either. The price is pretty decent considering how at some point during my ride i had no idea they were even there! There surprisingly easy to walk in, and the sole has a good grip so i had no problems walking on slick snow or ice getting to and from the chair. I just love how they feel on my feet and how within the first hour of riding, usually my feet freeze, but my feet stayed warm which suprised me since they are pretty light, and easy. These boots, i think, are great! I am a progressing intermediate rider and i love these boots! Great fit, great response, great buy!
View Details: Burton Coco Snowboard Boot - Women's
Helpful Votes: 1 Yes