Gear Review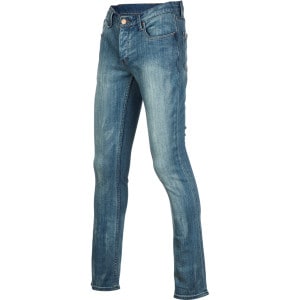 Baggy Alameda Pants....
By John
Ranked #1363 - Men's Pants March 5, 2010
I own a few pairs of the Alameda (non-signature version) and they all have a similar fit. Slim in the thighs and legs--reminds me of the awesome fit that the kr3w kslims had back in the day before they went gangsta; however, the Reynold's Signature Alameda pants are kind of baggy. I have a pair in worn black. The thigh and legs are not really slim at all and the leg opening feels bigger than the non-sig Alameda pants even though they are suppose to measure the same. Everything about these pants besides for the wash sucks. I feel like I am wearing a pair of original levis or as if I am rocking a pair of Alamont Whilsers...I was looking online and I guess the reason why the sig-version are like $15-20 is because they are from kurabo denim (some denim factory in japan)...I don't know if this is the reason why they are so baggy, but man these suck. I know certain washes are suppose to fit better than others, but cmon these are not slim at all. I wished they made these the same way as the non-sig version, but they aren't so if you are buying these based on the non-sig version, you should know these are significantly bigger. And even though Altamont doesn't say that the Alameda pants are low rise...I can assure you that they are. You can pretty much rock 1 size down (i.e., 29 instead of 30) and still have plenty of waist room. The wash on these are sick tho...it's a shame that Altamont only makes cool washes in the sig version.
View Details: Altamont A. Reynolds Alameda Signature Denim Pant - Men's
Helpful Votes: 2 Yes