Gear Review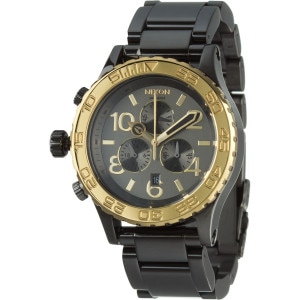 $424.95 - $549.95
5 Reviews
See all product details
" Sick watch dude..."
By Tom C
Ranked #225 - Casual Watches March 24, 2010
Thats all I have heard since I first pulled this bad boy out of the box and put it on. Some people like fancy expensive cell phones, I happen to be a watch guy. Very comfortable, looks super sweet and its water proof so you dont have to pop it off before hoping in the hot tub, lake ect. The chronograph is a little odd, but I don't really use it... I must admit I was a bit sketched out about putting down that much money but Im very happy with the product.

Another great Nixon score!
View Details: Nixon 42-20 Chrono Watch
Helpful Votes: 0 Yes