Gear Review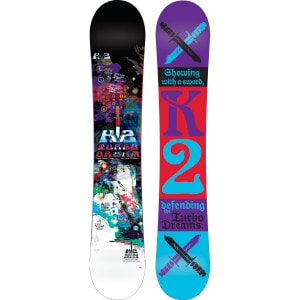 $499.95
15 Reviews
See all product details
This board is sooo diesel....
By Backwerd
Ranked #2054 - Boards July 24, 2010
I bought this board right at the end of the season last year and it was amazing....Even in the crappy conditions too! It handles great in pow, took it to Snowshoe when they had the EPIC pow fall of 5-7 feet right after new years...Handled like a charm once i got my bindings dialed in. Super light and plenty of pop. Good down the mountain/backwoods or in the park too. You definitely wont be let down! Oh and the Rome SDS 390 neon colored bindings look sooooo sick with it too! perfect match..
View Details: K2 Snowboards Turbo Dream Snowboard
Helpful Votes: 1 Yes
Tech Specs:
Length:

156 cm, 159 cm, 161 cm, 165 cm

Shape:

directional twin

Flex:

medium

Camber:

rocker

Effective Edge:

[153 cm ] 1168 mm; [156 cm ] 1193 mm; [159 cm ] 1218 mm; [161 cm ] 1244 mm; [165 cm ] 1269 mm

Waist Width:

[153 cm ] 245 mm; [156 cm ] 247 mm; [159 cm ] 249 mm; [161 cm ] 251 mm; [165 cm ] 253 mm

Sidecut Radius:

[153] 7.9 m; [156] 8 m; [159] 8.1 m; [161] 8.2 m; [165] 8.3 m

Stance Width:

[153 cm] 21 in; [156, 159 cm] 22 in; [161, 165 cm] 23 in

Stance Setback:

0.75 in

Core:

WH3 (wood and Honeykomb)

Base:

4000 sintered

Recommended Rider Weight:

[153 cm] < 150 lb; [156 cm] 130 - 210 lb; [159 cm] 130 - 210 lb; [161 cm] 150 + lb; [165 cm] 160 + lb

Recommended Use:

all-mountain

Manufacturer Warranty:

1 year