Gear Review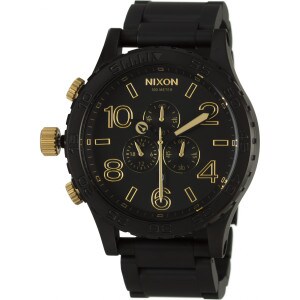 $424.95 - $549.95
12 Reviews
See all product details
popeye-approved
By Zach Pina
August 14, 2010
Before you take the plunge on a time teller that doesn't come with a matching collector's cup in a value meal, there are a few things you should know about the 51-30 Chrono. Specifically, how it only has Japanese movement, does not have a scratch-proof sapphire crystal, and is not Swiss made, despite the price tag. To watch wieners, the 51-30 is neither elegant like a Tissot, or classy like a Tag. But like the USS Facepunch at a sailboat regatta, this battleship of a timepiece demands attention, and does more than splash big, and crush a few floating oyster bars.

The 51-30 is everything its aforementioned counterparts are not; rugged, chunky, and bold, and will hold its own from the dancefloor to the ocean floor (more practically on the latter). In addition to its recommended use as a diving, surfing, and "casual" watch, I was thrilled to find the 51-30 also excels at these other riveting extracurricular exploits:
- torpedoing haters
- silencing timepiece snobs
- counting down to the next ass-whooping
- pimp-slapping endangered aquatic species
The most difficult thing about this watch isn't holding it up, or exercising great care not to accidentally crack skulls (including your own) from its heft, but deciding between a bevy of colorway and band options. Choose wisely.

* watch body is already mad heavy, steel band option makes it even heavier
* chrono/luminescence features are functional, but rudimentary at best
* true, dive-watch style bezel counts down, not up
* 51mm across, 300m down - get it?
View Details: Nixon 51-30 Chrono Watch - Men's
Helpful Votes: 5 Yes