Gear Review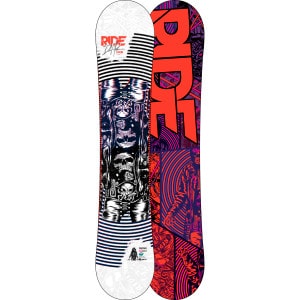 $529.95
17 Reviews
See all product details
DH2 plus rocker = AMAZING!
By Christian DeHaas
Ranked #49 - Boards October 29, 2010
I don't have this exact board, but I have the DH2 LE series from 2009. It has the same camber as this board and is one of the best park boards out there. It stands tall right up there with the K2 WWW, and the Lib Tech Skate Banana. I have ridden all these boards and love this one equally as much as the others. The only downfall to this board is that the base can get scratched up pretty easily... Watch out for sharp points on rail, rocks, or twigs. This board is an overall winner in my book... If I could choose a board for you it would be this one.
View Details: Ride DH2 Snowboard
Helpful Votes: 0 Yes
Tech Specs:
Length:

149 cm, 152 cm, 155 cm, 158 cm, 160 cm

Shape:

twin

Flex:

medium (7 out of 10 on Ride scale)

Camber:

Hybrid Twin (rocker and camber)

Sidewalls:

POPwalls

Effective Edge:

[149 cm ] 1152 mm; [152 cm ] 1178 mm; [155 cm ] 1203 mm; [158 cm ] 1241 mm; [160 cm ] 1254 mm

Waist Width:

[149 cm ] 249 mm; [152 cm ] 250 mm; [155 cm ] 251 mm; [158 cm ] 252 mm; [160 cm ] 253 mm

Sidecut Radius:

[ 149 cm ] 99.5 / 74.5 / 99.5 m; [ 152 cm ] 10.05 / 7.55 / 10.05 m; [ 155 cm ] 10.15 / 7.65 / 10.15 m; [ 158 cm ] 10.25 / 7.75 / 10.25 m; [ 160 cm ] 10.35 / 7.85 / 10.35 m

Stance Width:

[ all sizes ] 22 in

Stance Setback:

centered

Core:

wood

Base:

Fusion 4000 (sintered)

Recommended Rider Weight:

[149 cm] 100 - 150 lb; [152 cm] 125 - 175 lb; [155 cm] 130 - 180 lb; [158 cm] 130 - 180 lb; [160 cm] 140 - 190 lb

Recommended Use:

all-mountain freestyle