Gear Review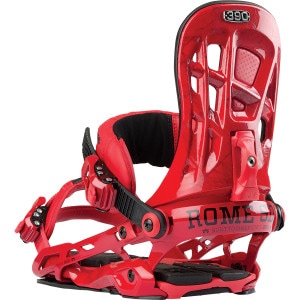 $229.95
62 Reviews
See all product details
Can't go wrong.
By damir.hara2297174
Ranked #1065 - Bindings November 6, 2010
You can't go wrong with the 390's. Super comfy ankle strap and great toe strap that will now slip off even during the gnarliest falls.

IF YOU ARE DEBATING BETWEEN THESE AND UNION FORCE'S or CONTACT'S STOP!! THEY ARE DIFFERENT BINDINGS BUT YOU WILL NOT GO WRONG WITH EITHER DECISION. WEIGHT WILL NOT MATTER THAT MUCH TO YOU UNLESS YOU ARE DOUBLE CORKIN' JUMPS AT YOUR LOCAL RESORT. SO GO WITH WHATEVER LOOKS BETTER TO YOU.
View Details: Rome 390 Snowboard Binding
Helpful Votes: 0 Yes