Gear Review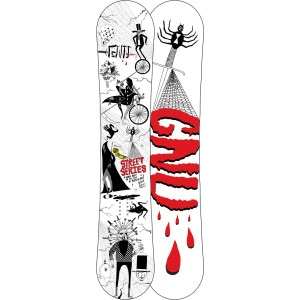 $429.95
6 Reviews
See all product details
Holymoly doughnut shop!
By Chauncy
Ranked #1310 - Boards December 12, 2010
Jus got the board and it's WAYYYYYY more colorful than the picture displays!! If your lookin for a fun board thats speaks pretty loud for itself this would be the one to get no doubt. Can't wait to take it out for a spin!!
View Details: Gnu Street Series BTX Snowboard
Helpful Votes: 0 Yes
Tech Specs:
Length:

149 cm, 152 cm, 154 cm, 157 cm

Shape:

twin

Flex:

[ 149 cm ] medium (4.5 of 10 on Gnu's scale); [ 152 cm ] medium (5 of 10 on Gnu's scale); [ 154 cm ] medium (5 of 10 on Gnu's scale); [ 157 cm ] medium (5.5 of 10 on Gnu's scale)

Camber:

BTX

Effective Edge:

[ 149 cm ] 1140 mm; [ 152 cm ] 1160 mm; [ 154 cm ] 1180 mm; [ 157 cm ] 1120 mm

Waist Width:

[ 149 CM ] 250 mm; [ 152 cm ] 250 mm; [ 154 cm ] 254 mm; [ 157 cm ] 257 mm

Sidecut Radius:

[ 149 cm ] 7.6 m; [ 152 cm ] 7.8 m; [ 154 cm ] 8 m; [ 157 cm ] 8.2 m

Stance Width:

20.25 - 25 in

Stance Setback:

centered

Core:

Mervin sustainable wood

Base:

extruded

Recommended Rider Weight:

[ 149 cm ] 90 - 160 lb; [ 152 cm ] 100 - 180 lb; [ 154 cm ] 110 - 200 lb; [ 157 cm ] 120 - 220 lb

Recommended Use:

park, street, zeaching

Manufacturer Warranty:

1 year