Gear Review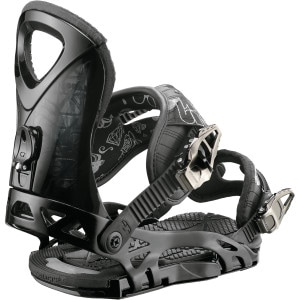 $209.95 - $219.95
5 Reviews
See all product details
Bomb proof, yet surprisingly comfy!
By Herbert.C.Waterdragon
Ranked #1122 - Bindings January 15, 2011
I have tried tons of different bindings, most of burtons line up, rome's line up, and union's lineup. Can't say anything bad, or take anything away from the unions, other than the weird extra piece on the toe strap. Most of Rome's seem pretty nice, but do not feel like a durable solid binding. Drake makes some of the very best bindings you will ever ride. I had the SS's from '06 and loved 'em. So after demoing everything else but Drake's, I wasn't sure what to get. Held these bindings in one hand, and the 390 bosses in the other, can honestly say, these felt bomb proof compared to those. I had to go with these, ordered 'em off Dogfunk, they came super quick, threw them on my Never Summer SL, and wow. Just like my old SS's the ratchets on these are killer, they are really solid, and in -30 degree weather, they will not skip a tooth, I could tighten these up until my feet lost circulation. Very responsive binding, so you get a real feel of your board. Super comfy straps; the toe strap doesn't move a cm, and top strap is really comfy, even after a hard day of riding. All in all, I would recommend these to everyone looking to kill the mountain, these will take whatever you throw at them.
View Details: Drake Supersport Snowboard Binding
Helpful Votes: 0 Yes