Gear Review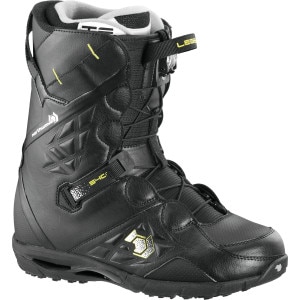 $199.95 - $209.95
4 Reviews
See all product details
Underrated....
By pleasure biscuit
Ranked #610 - Boots February 25, 2011
After picking up the Burton Grail's(I returned them because, although they are quite cushy, I personally didn't feel like they were worth the price and the materials were too much like a pair of Jordan's and didn't seem "lasting" enough for the mountains). It's been a while since I've upgraded my equipment and boots were at the top of my list. Having previously owned an earlier version of the legend boots, I decided to give the newer design a shot. Lemme just say that Northwave is still on point as far as I'm concerned. Out of the box these boots feel great, this is my first pair of speed lace boots and I think this system looks and feels pretty solid. Although I get feeling that Northwave/Drake is not as widely popular and available these days, make no mistake, they still put out a quality product. The outer shell is top notch in construction. The liner is very cushy on and around the rear leg and firm on the tongue/forefoot area. The heel hold system in these boots puts a lot of others to shame. I previously wore 10.5 in the old legend's(I wear 11.5 in street shoes.) I got these in 10.5 as well and the fit was right on(If you've tried out enough boots, you know it's hit and miss with sizing, as some brands differ quite a bit.) Overall, as the other reviewer stated, when it comes to quality...these far exceed their price point!!!

Worth mentioning: There has been a lot of talk out there that even though Northwave makes great boots, their customer service or lack thereof has given them a negative rep when is comes to customer support. The biggest complaint... trying to get a hold of replacement speed laces to replace worn or broken originals. I recently discovered that Northwave has been acquired by Vittoria (a cycling tire company). I e-mailed the U.S. headquarters about getting a pair of back-up laces and in less than a day they had responded back and are sending a pair out. So it seems that the new owners are committed to changing the customer service rep for the better!!!
View Details: Northwave Snow Legend SL Snowboard Boot - Men's
Helpful Votes: 1 Yes