Gear Review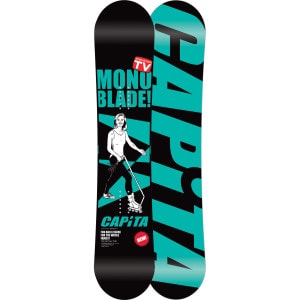 $339.95
34 Reviews
See all product details
Love it Super Duper Much!
By Justin
Ranked #25 - Boards March 4, 2011
Got last year's version in the 152w. Best park board I've ever ridden hands down. I was a Burton guy for 8 years, rode nothing but Burton and thought everything else was crap. Then I decided to buy a Capita scaremaster cause it was cheap. That board was sick so last year I bought the stairmaster and its even more sick! I ride mostly park, unless it's a pow day I'm in the park or screwing around on side hits. The board has super pop, its soft but poppy as all hell. It locks into rails like mad, 50-50s, blunts, boards, presses, great board for the jibs. It rocks jumps solid too. I'm a bit of a wimp so the biggest jumps are 30 footers for the most part, super solid. Even the 152 stomps landings without being sketchy at all. Spins are no issue on the stairmaster. This obviously is a park deck and isn't great riding the mountain fast, but when you want to you can definitely dig an edge in on this thing no problem. Its solid as hell too. I beat the crap out of it every time I ride and it keeps coming back for more. When the base got all chewed up (who knew you shouldn't ride in the woods with less than a foot of coverage?) I filled it in with p-tex and good as new. Wax her up and she'll fly, real fast base considering its extruded. This is my favorite board I've ever owned, and I've owned a lot in 10 years of riding. If I were to buy another board today it'd probably be a stairmaster. Capita makes great decks at incredibly fair prices. If you want a park board that's soft and poppy, that you can beat the hell out of and still keep if for a few years this is the one.
View Details: Capita Stairmaster Snowboard
Helpful Votes: 0 Yes
Tech Specs:
Length:

144 cm, 148 cm, 152 cm

Shape:

true twin

Flex:

medium-soft (4 of 10 on Capita's scale)

Camber:

traditional

Effective Edge:

[144cm] 1100 mm; [148cm] 1150 mm; [152cm] 1155 mm

Waist Width:

[144cm] 244 mm in; [148cm] 248 mm in; [152cm] 252 mm in

Sidecut Radius:

[144cm] 7.4 m; [148cm] 7.8 m; [152cm] 7.9 m

Stance Width:

[144cm] 23 in; [148-152cm] 24 in

Core:

WDT Engineered Jib Core (wood composite)

Base:

extruded

Recommended Use:

street, park

Manufacturer Warranty:

2 years