Gear Review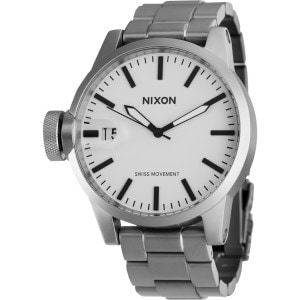 $299.95 - $349.95
3 Reviews
See all product details
Bangin Time Piece!!
By MattKnudtson
Ranked #296 - Men's Accessories May 6, 2011
I got one of these last week and I just can't get enough of it. I ordered it in the Antique Copper colorway and it's pretty sick lookin'. Everyone notices it considering it's large and ballin'! I think the finish on it will really wear nicely as it looks aged already. The face is a mild concern as it is large enough that it would probably break a little easier than the Banks or The Player.

Oh well, wear carefully and enjoy!
View Details: Nixon Chronicle SS Watch - Men's
Helpful Votes: 0 Yes