Gear Review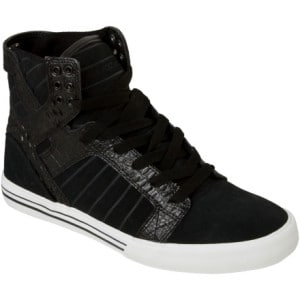 $109.95 - $119.95
21 Reviews
See all product details
Best shoes ever....
By DeZZ
Ranked #232 - Men's Shoes October 11, 2011
The Skytops are the first Supras I've ever owned, and they are undoubtedly the best pair of shoes I have ever owned. From the first time I put them on, it was literally like walking on clouds. They are ridiculously comfortable and one of the most fashionable and unique shoes on the market. I have worn them everywhere, for everything, for almost a year now, and they still look awesome. The heels are the only part that are slightly more worn down, which unfortunately is making the back Supra label look a little bit funky. But I beat the heck out of my shoes, and minus that one wear point, they practically look brand new still. These can certainly hold up for the long haul, especially if you clean them regularly and take care of them. I'm getting another pair in a different color for my b-day.

Dogfunk, please start carrying these in smaller sizes! I would love to be able to buy through you guys, but I'm only a men's size 7. Trust me, women and smaller dudes would really appreciate it.
View Details: Supra Chad Muska Skytop Skate Shoe - Men's
Helpful Votes: 0 Yes