Gear Review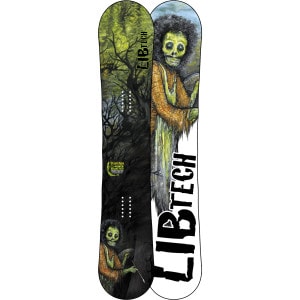 $559.95
12 Reviews
See all product details
Skunk Ape off the hook!
By mike4surf1826391
Ranked #22 - Wide Snowboards January 1, 2012
Just rode Jackson Hole and Grand Targee on my new Skunk Ape 172 great board did everything I wanted and more. Weather fresh pow or ice the magna traction
held the line.

Spotted this Skunk Ape in the Gondola line.
View Details: Lib Technologies Skunk Ape C2-BTX Snowboard - Wide
Helpful Votes: 0 Yes
Tech Specs:
Length:

157 cm, 161 cm, 165 cm, 169 cm, 172 cm, 180 cm

Shape:

directional twin

Flex:

medium-stiff (7 of 10 on Lib Tech's scale)

Camber:

C2 Power Banana (hybrid)

Sidewalls:

Power Transfer Internal

Effective Edge:

[157cm] 1170 mm; [161cm] 1210 mm; [165cm] 1240 mm; [169cm] 1270 mm; [172cm] 1310 mm; [180cm] 1370 mm

Waist Width:

268 mm

Sidecut Radius:

[157cm] 8.25 m; [161cm] 8.5 m; [165-169cm] 8.6 m; [172cm] 8.75 m; [180cm] 9.8 m

Stance Width:

21 - 26 in

Stance Setback:

0.5 in

Core:

Columbian Gold (wood)

Base:

sintered

Recommended Rider Weight:

[157cm] 140 + lb; [161-165cm] 145 + lb; [169cm] 150 + lb; [172-180cm] 160 + lb

Recommended Use:

freestyle, all-mountain, big man shredder

Manufacturer Warranty:

1 year