Gear Review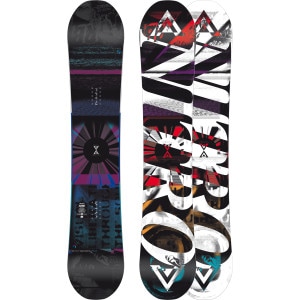 $479.95
6 Reviews
See all product details
Sick board.
By Matt Pierce
Ranked #38 - Boards January 5, 2012
I own a 159 wide and figured I'd post my review here as well.
I set it up with 2011 Blackhawk bindings. This board is great. Stiffer than my Rook and more of an aggressive ride. I'm about 6'2" 175lbs and riding the 159W (my 2011 Rook is a 154). I feel like this board just begs to go fast and be ridden hard. First time out I was thrown down a couple times because one moment of not paying attention can be disastrous. This is NOT a beginner board. It is responsive and reacts to like every little movement. It is stable for bombing because of the bigger size I got and the gullwing profile allows it to turn with so much ease while still keeping great edgehold. It also has great pop. I haven't gotten enough time on it to really say anything about durability, but i underlfipped a frontflip and the tail hit ice hard and no damage was visible. A beginner also ran into me and hit my board... again, no damage. I've been riding Nitros for years. Every board I've own by them has been amazing and this board is no exception. Not the best rail board, but that's why I have my Rook. Definitely awesome for charging and jumps. I could see it being softer and more all-around in a smaller size as well.
View Details: Nitro Team Series Gullwing Snowboard
Helpful Votes: 0 Yes
Tech Specs:
Length:

152 cm, 155 cm, 157 cm, 159 cm, 162 cm

Shape:

directional twin

Flex:

medium (all terrain)

Camber:

Gullwing (hybrid)

Effective Edge:

[152cm] 1160 mm; [155cm] 1180 mm; [157cm] 1190 mm; [159cm] 1200 mm; [162cm] 1230 mm

Waist Width:

[152cm] 246 mm; [155cm] 248 mm; [157cm] 250 mm; [159cm] 252 mm; [162cm] 254 mm

Sidecut Radius:

[152cm] 10.7 / 6.8 / 10.7 m; [155cm] 11 / 7.2 / 11 m; [157cm] 11.3 / 7.3 / 11.3 m; [159cm] 11.7 / 7.3 / 11.7 m; [162cm] 12.8 / 8.1 / 12.8 m

Stance Width:

20.5 - 25.2 in

Stance Setback:

15 mm

Core:

Powercore

Base:

sintered

Recommended Rider Weight:

[152cm] 110 - 155 lb; [155cm] 120 - 165 lb; [157cm] 130 - 175 lb; [159cm] 145 - 185 lb; [162cm] 155 + lb

Recommended Use:

all-mountain, freestyle

Manufacturer Warranty:

2 years