Gear Review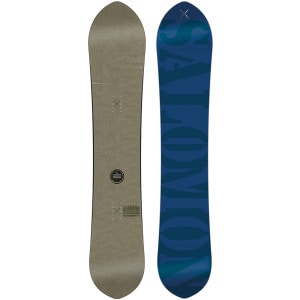 $399.90
2 Reviews
See all product details
Powder Snake! Powder Snake! Powder Snake!
By Peter Vliss
Ranked #254 - Boards January 22, 2012
I recently picked up a 160 Salomon Powder Snake.

SHORT REVIEW:

1) Camber is not rockered or reverse. It's flat and almost camber like.

2) Stiffness is NOT medium-stiff. It's very soft and has tons of flex. I would give it a 4/10.

3) Float is great - Equal to the float of my 156W Lib Tech Skate Banana, but smoother and doesn't push or plow the snow with the rocker like the Lib Tech. Because it has the flat profile.

4) Pop is good, popping up and slashing pillows is so much fun with this slithering menace!

5) Does okay in the mid-day chop and crud. I wish it was a tad more damp and stiff to plow through chunder - but it gets the job done.

6) Overall a smooth buttery pow stick that is lots of fun.

FULL REVIEW:

While waiting for winter to show up here in Utah, I rode this board a few times at Brighton on groomers. I was really surprised at how fun this board was just carving and blasting off side hits. Carving was good for a powder board, but not GREAT.

Now fast forward a week, a giant storm rolling in off the pacific, completely pounded Salt Lake City, and the Wasatch range of Northern Utah. 4 1/2 feet of snow fell in 4 days. The first dump was some of the heaviest, wettest, stickiest snow I've ever ridden - truly 'sierra cement.' I was expecting a little more float, as my Lib Tech Skate Banana was about equal in terms of float. But those are some of the worst powder conditions a resort can have.

Fast Forward two days - Brighton, Utah gets obliterated with 30 inches of Utah's famous super dry, light powder overnight. This thing chewed up the pow and spit it out like it was nothing. It floated like a dream, slashed like demon, turned on a dime, popped and smashed pillows, ollied over snow covered trees, buttered the pow like it was grandpas toast. After a few hours the freshies turned into chopped up crud, this thing GOT through it, but I wish it PLOWED through it. It's a pretty soft flexy board, so it wasn't the most stable - but it got the job done.

Overall I give this board a 4/5 stars, my only complaint is I wish it was a little more damp and stable while plowing through the mid-day chunder. But on the fresh snow, this thing is just too much fun. And for under $400 - it's worth it for a fun pow stick.

Let me know if you have any further questions.
View Details: Salomon Snowboards Powder Snake Snowboard
Helpful Votes: 1 Yes
Tech Specs:
Length:

153 cm, 156 cm, 160 cm, 163 cm, 166 cm

Shape:

tapered twin

Flex:

medium (5 of 10 on Salomon's scale)

Camber:

rocker (reverse)

Effective Edge:

[153cm] 1130 mm; [156cm] 1150 mm; [160cm] 1170 mm; [163cm] 1200 mm; [166cm] 1230 mm

Waist Width:

[153cm] 246 mm; [156cm] 250 mm; [160cm] 252 mm; [163cm] 256 mm; [166cm] 260 mm

Stance Width:

[153cm] 23.5 in; [156cm] 24.3 in; [160cm] 24.6 in; [163-166cm] 25 in

Stance Setback:

centered

Base:

sintered

Core:

Aspen Srong (wood)

Recommended Rider Weight:

[153cm] 110 - 155 lb; [156cm] 130 - 165 lb; [160cm] 145 - 195 lb; [163cm] 150 - 215 lb; [166cm] 163 - 230 lb

Recommended Use:

pure powder machine

Manufacturer Warranty:

2 years