Gear Review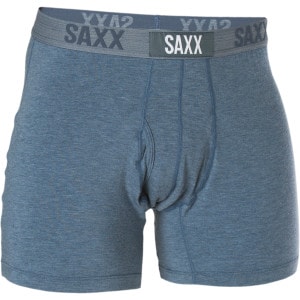 $39.95
1 Review
See all product details
Merino for ya Bozak
By Shredwise
March 13, 2012
If you want your body to be warm, you've got to keep your core warm. This pair of undies does that and so much more.

The Merino blend material is ultra thin, ultra soft, zero itch, and really wicks moisture. Merino is better than poly because it insulates when you need warmth and ventilates when you need to cool down. The mediums fit my 32 waist perfectly.

Don't even think for a second that the front pouch with parallel side panels is a gimmick. IT WORKS. The parallel side panels create a layer of material between your legs and sack so you'll never have to unstick your junk from your thighs again. And unlike regular briefs, all Saxx underwear doesn't bunch constrict your boys into a tiny pouch, they get to hang as low as they want.

Bottom line is the SAXX Black Sheep boxer brief is my only snowboard underwear. I rock it with my merino Ninja suit for the total experience. Never wearing poly again - I'm a merino believer.
View Details: Saxx Black Sheep Boxer W/Fly - Men's
Helpful Votes: 0 Yes