Gear Review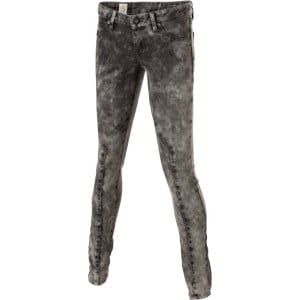 $54.95 - $74.95
7 Reviews
See all product details
Could have been pant of the year but...
By slg4840987
Ranked #31 - Women's Pants October 6, 2012
I have these jeans in two colors. I love the cut! My waist is a size smaller than my butt which makes pant shopping difficult, but these totally work. The waist is still a hair loose, but I think in a skinny jean, that's not always a bad thing. These pants run very true to size and have nice stretch. They only get 4 stars for not having front pockets. What? They look real, but have zero function, just stitched illusions. Also, I know it's in volcom fashion, but I'm not a fan of the twisted seems on the butt. Who's style says "manufacturing defect" on purpose. Too bad volcom didn't try a hair harder because these pants could have easily been 6 stars with a little extra attention to detail.
View Details: Volcom Pistol Denim Legging - Women's
Helpful Votes: 1 Yes