Gear Review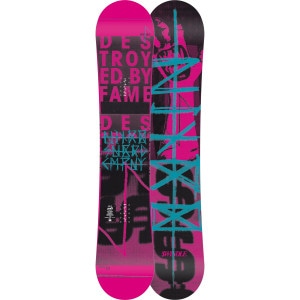 $379.95
18 Reviews
See all product details
One of the best rail boards out there!
By knut eliassen
Ranked #5 - Boards November 5, 2012
Bryan Fox, Austin Smith, Justin Bennee are just some of the Nitro team riders that ride the Swindle when they are cruising the park or out filming in the streets. This board was made to specifically help you ride better in the park and it does with its Zero Camber - Rail Killer Edges -Whiplash Core!
View Details: Nitro Swindle Snowboard
Helpful Votes: 0 Yes
Tech Specs:
Length:

142 cm, 145 cm, 148 cm, 152 cm, 155 cm, 157 cm

Shape:

twin

Flex:

Street (soft)

Camber:

flat (Zero)

Effective Edge:

[142cm] 1080 mm; [145cm] 1110 mm; [148cm] 1120 mm; [152cm] 1170 mm; [155cm] 1190 mm; [157cm] 1210 mm

Waist Width:

[142cm] 240 mm; [145cm] 243 mm; [148cm] 247 mm; [152cm] 248 mm; [155cm] 252 mm; [157cm] 254 mm

Sidecut Radius:

[142cm] 7.4 m; [145cm] 7.7 m; [148cm] 8 m; [152cm] 8.3 m; [155cm] 8.6 m; [157cm] 8.9 m

Stance Width:

[142-145cm] 19.7 - 24.4 in; [148-157cm] 21.3 - 26 in

Stance Setback:

centered

Core:

Power Core II

Base:

extruded

Recommended Rider Weight:

[142cm] 90 - 130 lb; [145-148cm] 100 - 145 lb; [152cm] 110 - 155 lb; [155cm] 120 - 165 lb; [157cm] 130 - 175 lb

Recommended Use:

street, park

Manufacturer Warranty:

2 years