Gear Review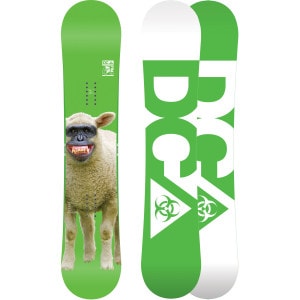 $350.00
19 Reviews
See all product details
Its peanut butter jibbing time!!
By dtk4541068
Ranked #321 - Boards January 2, 2013
THIS BOARD RULES!! Just picked up the 149 PB&J with the cat/hippo graphic off of whiskey militia for 179.99. I have dubbed it the HippaPussaPotamus haha!! The anti camber/camber core its a unique feeling on the snow. The board has a ton of flex and a ton of pop. The flat bottom between the bindings makes balancing on the rail easier than standing on two feet, Its like this board is connected directly to my brain. Could not be happier about this purchase. Im about to take this bad boy up to stowe for a week and put it through an extreme test. Ill write another review if my feelings change after that.
View Details: DC PBJ Snowboard
Helpful Votes: 0 Yes
Tech Specs:
Length:

144 cm, 149 cm, 153 cm, 157 cm

Shape:

twin

Flex:

medium (5 of 10 on DC scale)

Camber:

rocker (reverse)

Effective Edge:

[144cm] 1060 mm; [149cm] 1090 mm; [153cm] 1110 mm; [157cm] 1130 mm

Waist Width:

[144cm] 246 mm; [149cm] 249 mm; [153cm] 250 mm; [157cm] 251 mm

Sidecut Radius:

[144cm] 6.5 m; [149cm] 6.7 m; [153cm] 6.9 m; [157cm] 7.1 m

Stance Width:

[144cm] 19 - 23.5 in; [149cm] 20 - 24.5 in; [153-157cm] 20.5 - 25 in

Stance Setback:

centered

Core:

AstroCore (wood composite)

Base:

extruded

Recommended Use:

freestyle, jibbing

Manufacturer Warranty:

1 year