Gear Review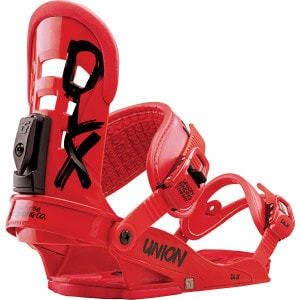 $129.95
11 Reviews
See all product details
Excellent for All Conditions
By Bagel Balls
Ranked #227 - Bindings January 2, 2013
I have had these for 2 seasons now, and have used them in everything including powder, ice and slush. I have used them everywhere from the Northwest to Midwest U.S., and they have been great. They are durable, solid, reliable, ass-kicking bindings that have never let me down.

Personally, I prefer these ($129.95) over the Forces ($199.95) because the ratchets are much smoother and release way more easily on the toe straps.
I love the highbacks on these bindings- they are soft but not too soft, and very responsive when leaning back- making them great for most conditions. This season Union gave them the Contact highbacks from last season. They're the same but have 2 more milled out sections in the center for a little more flex.
The baseplate is wide and easily fits all the boots I've owned so far, unlike the more narrow baseplate on the Flite bindings.
The only thing I don't like about them is that there is no full base cover to stop dirt from getting to the screws :(

Bottom line:
Calling these "beginner bindings" just because they're at the lowest price on Union's line is definitely an understatement. They're indestructible. They're nice on any terrain. They're the choice of 2 pro riders. They're affordable.
Heck, the way I see it they're one the best pairs of bindings from Union. Like I said, the only problem is the lack of a full base-cover pad, but if that doesn't bother you then go for them.
View Details: Union DLX Binding
Helpful Votes: 0 Yes
Tech Specs:
Highback:

Multizone Dupont Zytel ST

Ankle Strap:

Direct-Connect

Toe Strap:

open ultra-grip

Baseplate:

Stage 1 Dupont Zytel ST

Baseplate Padding:

injected EVA

Ratchet Type:

aluminum

Flex:

medium-soft

Compatibility:

4-hole, 3-hole, channel

Recommended Use:

frestyle, park, street

Manufacturer Warranty:

lifetime