Gear Review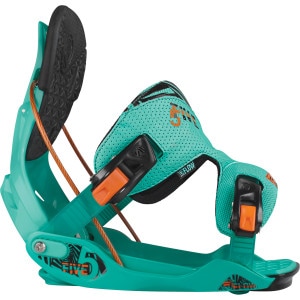 $189.99
9 Reviews
See all product details
Dont do it!
By anthony_ca2144818
Ranked #3192 - Bindings March 31, 2008
Hey guys.. Well, I bought a new pair of the old '5' binding at the start of this season .. After a month of trying to get them adjusted right, the screw holding the highback up snapped at the top of the hill.. 4000ft of vertical with no heel support is great fun! After 6 emails to Flow, with zero replies, it took 2 phone calls to a pissed off Quebecois call centre to get the WRONG PART shipped to me.. 3 months later, After a drive cross country to Vancouver to the original boardstore I got em from they kindly replaced them with this years 'The 5'.. Damn.. wish they hadn't. 2 weeks of riding, and one clip has snapped already.. with a week left of the season, I reckon I'll wait till I go to Vancouver again & swap em out while they're still under warranty.. Flow - Cheap plastic, a good idea, but poor design.. they need to pick up their game.
View Details: Flow Five Snowboard Binding
Helpful Votes: 0 Yes