Gear Review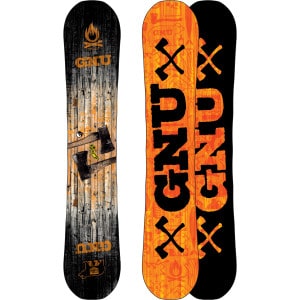 $539.95
8 Reviews
See all product details
power and pop!
By Feast the Wildbeast
Ranked #1451 - Boards July 23, 2008
SO glad that GNU has adopted the Banana technology! As if the Riders choice didn't already kill it, now it's got the ultimate snowboard construction!
I've had the chance to demo this board for a good portion of the last season and swear by it. The construction is tough, the pop is powerful and the fun has been increased by at least 35% !! The combo of the Mag and banana is what makes the construction really work. This thing is a perfect ALL AROUND killer! No more need of a quiver. Save yourself some serious cash and buy one snowboard that works better in EVERY condition than most snowboards in some conditions!
View Details: Gnu Rider's Choice C2-BTX Snowboard
Helpful Votes: 0 Yes
Tech Specs:
Length:

151.5 cm, 154.5 cm, 157.5 cm, 161.5 cm

Shape:

twin

Flex:

medium (5 of 10 on Gnu's scale), medium (5.5 of 10 on Gnu's scale), medium (6 of 10 on Gnu's scale), medium-stiff (7 of 10 on Gnu's scale)

Camber:

C2BTX

Sidewalls:

double sintered UHMW

Effective Edge:

[ 151.5 cm ] 1160 mm; [ 154.5 cm ] 1180 mm; [ 157.5 cm ] 1200 mm; [ 161.5 cm ] 1220.5 mm

Waist Width:

[ 151.5 cm ] 245 mm; [ 154.5 cm ] 248 mm; [ 157.5 cm ] 253 mm; [ 161.5 cm ] 254 mm

Sidecut Radius:

[ 151.5 cm ] 7.6 / 8 m; [ 154.5 cm ] 7.7 / 8.1 m; [ 157.5 cm ] 7.8 / 8.2 m; [ 161.5 cm ] 8 / 8.4 m

Stance Width:

20.25 - 25 in

Stance Setback:

centered

Core:

AG1 sustainable wood

Base:

sintered

Recommended Rider Weight:

[ 151.5 cm ] 100 - 170 lb; [ 154.5 cm ] 120 - 200 lb; [ 157.5 cm ] 130 - 210 lb; [ 161.5 cm ] 140 - 240 lb

Recommended Use:

all-mountain freestyle, zeaching

Manufacturer Warranty:

1 year